Poured Concrete Walls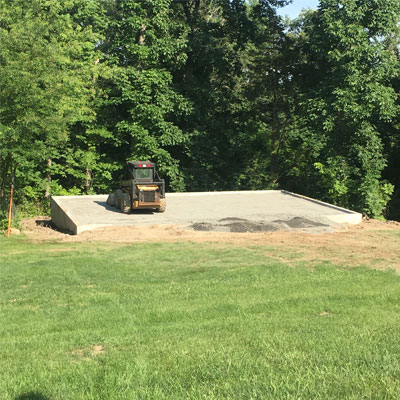 If you're looking for top-quality pole barns around Lancaster County, call Stoltzfus Builders, a one-stop destination for your pole building needs. We at Stoltzfus Builders are known for our quality of craftsmanship because our pole barns are completed featuring our own concrete poured walls!
Build A Strong Foundation Today
Reliable Pole Barn Walls from Lancaster County
When you create a dream space with our company, you have the opportunity to have some of the most durable, reliable, and attractive poured concrete walls in the county. Not only do these pole barn walls take your entire structure to the next level, but they also provide dependable structural support to any building.
Benefits of Concrete Poured Walls
A poured concrete wall is one that requires formwork, which can make preparation a more time-consuming process. However, the walls are reinforced with tie wires and spreader blocks to create even thickness, which can contribute to increased durability. Concrete walls and foundation walls can be further reinforced with rebar or metal rods. Poured concrete walls have many other appealing benefits, some of which include:
Compressive and flexural strength: Because we complete the concrete poured walls, durability and strength can be based on what's right for your desired pole barn structure.
Water and fire resistance: The joint-free construction of pole barn walls constructed with poured concrete can reduce water issues. Solid wall construction also provides added protection against fire damage.
Maintenance: One of the popular benefits associated with poured wall construction is how easy the walls made with poured concrete are to maintain. In fact, walls designed this way are virtually maintenance-free!
Poured Concrete Walls Available in PA, DE, NJ, & MD
Walls made from poured concrete can be created in a way that enhances your pole barn's natural beauty. When the skilled experts from Stoltzfus Builders prepare your construction plans, your walls will be designed in a way that perfectly matches your structure's style. We'll also keep the building's intended use in mind.
Add low-maintenance beauty to your pole barn building interior with a concrete poured wall. The hardworking team here at Stoltzfus Builders ensures quality poured concrete walls for the pole barns we build. Contact us today to learn more about our many options in poured walls.